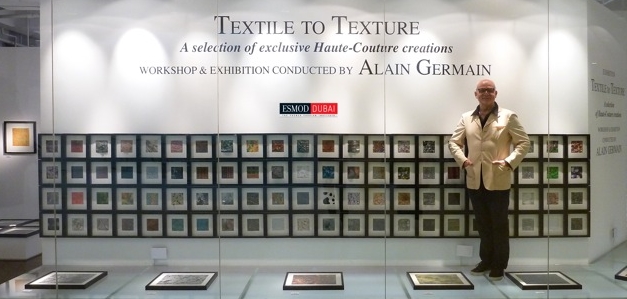 Wafi mall Gallery Esmod Dubaï
Vernissage le 2 février 2013, Ouverture au public jusqu'en juin 2013
Une exposition qui met en perspective un travail sur la matière comme autant de possibilités et d'ouvertures vers de nouveaux textiles.
« The famous French designer and theatre and opera stage director Alain Germain is in Dubai for two weeks and will be holding textile workshops with the students of Esmod, Dubai. He will be teaching them the art of fabric manipulation techniques, an important stage in putting together couture pieces. From those that are created, the best styles will be picked and exhibited on Feb.2 at the Esmod Fashion Store.
Here is an excerpt of his views on fashion and what he wants to pass on to aspiring fashion designers.
You have visited Dubai a number of times now and Esmod in particular. What ls it that keeps bringing you back ?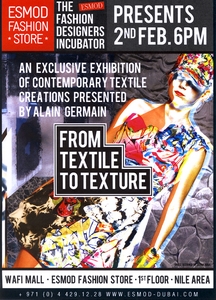 My visits are always inspired by the founders of Esmod Dubai, who's vision is to source experts in their fields to work and share their knowledge with the students. Dubai is also a city in perpetual movement. It is like a breath of fresh air to me, always changing and moving.
What do you think of the fashion in Dubai ? How does it differ to the fashion in France ?
For me, fashion in Dubai is something that is more about what you see on the street rather than in the mall. Each nationality has its own mix of styles that blend together creating something quite unique. In Paris, it is of course more European.
What is the idea behind the textiles workshops you are doing with the students of Esmod ? What do you hope that they will take from these workshops ? And how will it help them in terms of their designs ?
This workshop is a place of freedom where the students can open their minds and experiment to find their own creative path, sometimes quite by accident. Using this concept they are open to the opportunity to « train their eye », to make a selection of their work and then develop it into something unique which will form the basis of their haute couture collections.
With fashion designers such as Dior, Chanel and Jean Paul Gaultier, to name but a few, currently taking their couture collections to the runway, these workshops are a perfect opportunity to get an inside look in to garment construction. How important are the fabric manipulation techniques you are teaching in terms of constructing couture pieces ?
Fabric manipulation is very important to all fashion designers. The only way to create something new and unique in this generation is to explore the possibilities of texture.
Are there any designers that have used the techniques you are exploring in your workshops, within their collections ?
The concept of textile manipulation forms the base of every designer's collections. Each designer will develop their own creative techniques of doing this so that their work is individual. Esmod students and graduates that I have worked with will be inspired by my approach and then turn this into a style that works for and defines them.
Finally, what does 2013 have in the pipeline for you ? Are there any new projects on the horizon that you can tell us about ?
This year, 2013, is an exiting year for me as I have two books ready for launch. One book is aimed at children and is all about dance, and the second book is a thriller for adults. Further to this, I am excited to be hosting an exhibition in Ethiopia, based around the famous discovery in 1974 of « Lucy, » the pre-historic grandmother of us all. »
Time Out – The Gulf Today
Articles en relation :